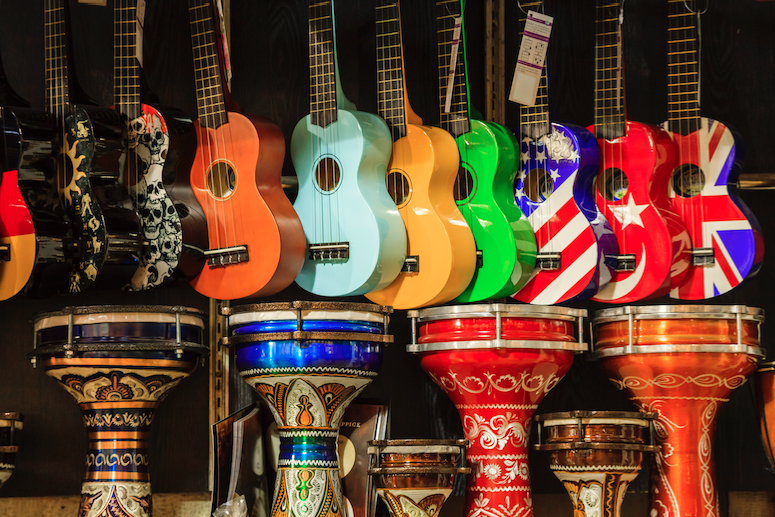 Pawn shops are known for having lots of jewelry, precious metals, and similar valuables in their inventories. In fact, those are our favorite types of items at Cash Express in Philadelphia.
But many pawn shops (including us) are also fans of musical instruments. Many people sell their instruments to pawn shops because they can get a great price fast — and pawn shops take them because they know other people will want to buy them.
If you're among these musicians that's looking to grab their first (or next) instruments from a pawnbroker, read on.
Why Buy an Instrument From a Pawn Shop?
In general, pawn shop instruments are in excellent condition. But since they're gently used, and since you can negotiate with pawn brokers, you can find a fantastic instrument at a low price.
Because of this, pawn shop instruments are perfect for beginners. You'll have more money leftover to invest in music lessons with a good teacher, as well as other accessories.
What Instruments Can You Find at Pawn Shops?
Not all instruments will be easy to find. Pawn shops only buy what people bring in, after all. If an instrument isn't popular, you might be able to find it at a pawn shop — but it'll be a challenge.
With that said, there are plenty of instruments commonplace in pawnbroker inventories, such as:
Amplifiers

Bass guitars

Clarinets

Flutes

Guitars (acoustic and electric)

Harmonicas

Keyboards

Synthesizers

Trombones

Trumpets

Violins
Out of these instruments, guitars and violins are the most popular. You'll find them quite easily, but you'll want to act fast — a guitar you're keeping your eye on could sell fairly quickly.
Buying Your Instruments
When buying your instrument, consider the whole cost when weighing the purchase against your budget. Not just the purchase price, but any necessary repairs and mandatory (or near-mandatory) accessories (such as a capo for a guitar).
Inspect your choice of instrument carefully, looking for signs of damage. Make sure the instrument isn't refinished. Check each component of the instrument (such as strings and pegs for a violin) carefully to get a feel for the instrument's condition.
Some repairs will be cheaper than others. You may pay more for a great-condition violin in need of restringing, but new strings aren't costly. On the other hand, violin body damage can be expensive.
Also, play an instrument a few times at the pawn shop. Listen carefully, as the tone it produces can help you determine the condition of the instrument. For example, violins should have deep, rich tones. A high-pitched, treble-y violin may not be in as good a condition as you think.
Keep these things in mind and you'll be well on your way to bringing home a great instrument at a fair price.
Looking to pick up a new musical instrument? Cash Express is your one-stop Philadelphia pawn shop for your instrument needs. We have plenty of excellent instruments to look at.
If you're looking to sell or pawn your instrument, we'd be happy to help as well. Come talk to our friendly staff today!